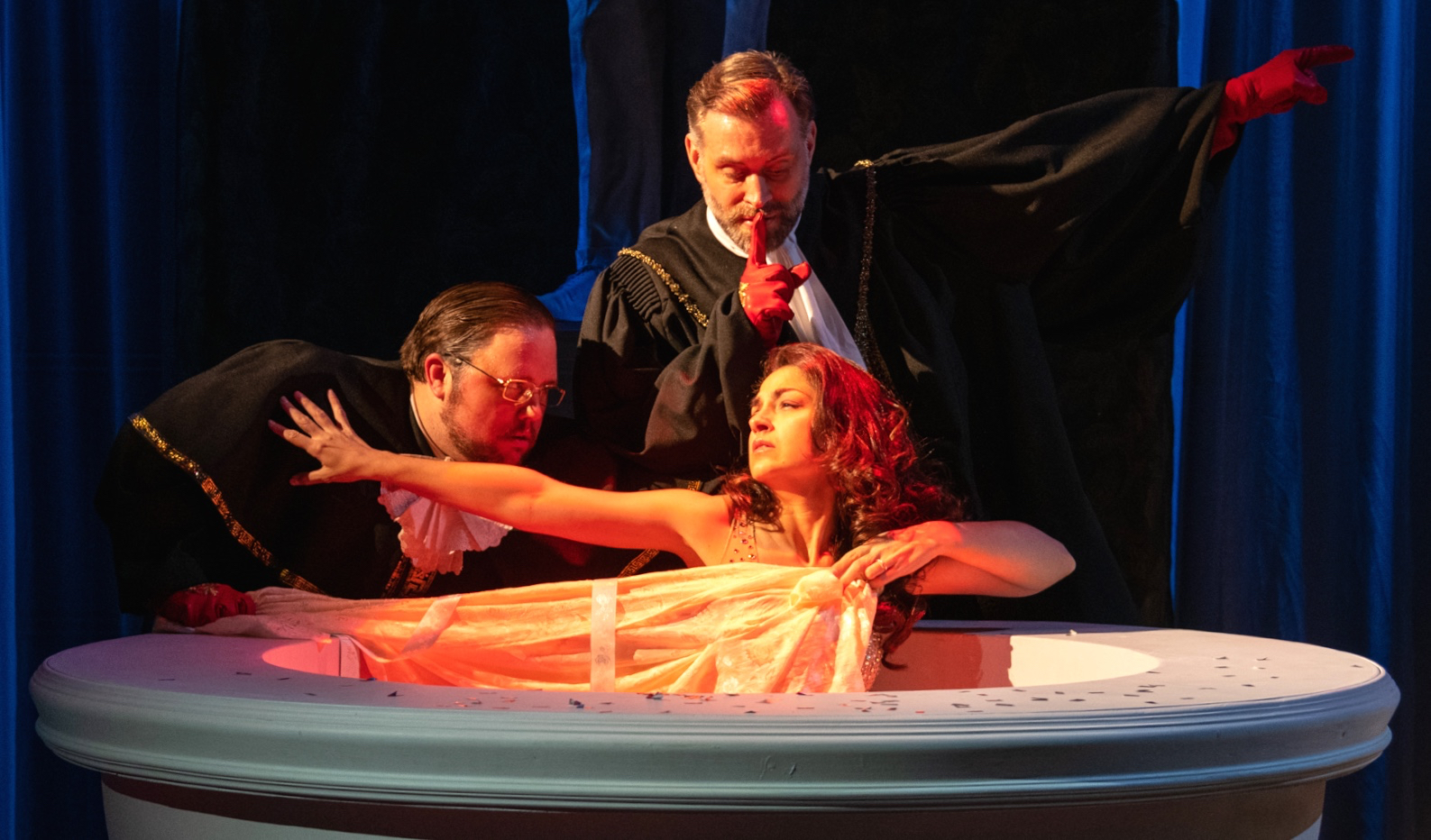 a co-production of Heartbeat Opera and Opera Lafayette
performed at The Kennedy Center's Terrace Theater, April 21-22, 2019, and BAM Fisher (Fishman Space), May 2-5, 2019
Based on the story of Susanna and the Elders in the Book of Daniel
Premiere American Staging
Music by Alessandro Stradella, Libretto by Giovanni Battista Giardini, Music Direction by Ryan Brown and Jacob Ashworth, Stage Direction by Ethan Heard, Movement Direction by Emma Jaster, Scenic Design by Reid Thompson, Costume Design by Beth Goldenberg, Lighting Design by Oliver Wason, English Translation by Peregrine Heard and Jacob Ashworth, Dramaturgy by Peregrine Heard, Stage Management by Caroline Englander, Assistant Direction by Erin Krebs, Associate Movement Direction by Tamrin Goldberg, Assistant Stage Management by Jenn Gallo
Lucía Martín Cartón // Susanna
Sara Couden // Scholar & Testo
Ariana Douglas // Student & Daniel
Patrick Kilbride // Judge
Paul Max Tipton // Judge
Ryan Brown // Violin
Jacob Ashworth // Violin
Arash Noori // Theorbo
Anthony Manzo // Bass
Loretta O'Sullivan // Cello
Andrew Appel // Harpsichord
Photos by Russ Rowland, Steven Pisano, and Louis Forget
Press
"A thoughtful production that did full justice to a forgotten work. Heard gave new punch to an old story of female abuse at the hands of men."
Changing the gender of Testo and Daniel is a "small but crucial shift" which is "the difference between this story being one of a helpless woman's male savior, or of a young feminist's coming into her own." Lucía Martín Cartón sang with "unadorned, celestial purity that later turned to emotive exasperation."
"Heartbeat Opera has earned a reputation for the specificity and the commitment with which it updates the setting of an opera to reflect contemporary preoccupations."
"A fascinating production. A great way for neophytes to introduce themselves to an art form with a long and complicated history. The soaring melodies and vocal stylings are gorgeous all on their own, and it's amazing to see people within this medium challenging what it means to put on an opera in the fallout of Trumpism."
"A highly theatrical version with political resonance today, never scanting the exquisite baroque musical sensibility of the piece."
"A marvel both musically and dramatically. Artistic past and political present mingled in a way both uncomfortable and thought-provoking. Heard pulled no punches."
"An extraordinary experience. A synergistic blending of cultures, and an outstanding collaboration."
"Riveting. Heard's direction shed so much light on the issue presented by the story that we had tears dripping from our eyes."
"Superb. Beautifully staged. Revives wonderful, rarely-heard music and tells an old, forever-new story with love, humor, and seductive grace."
"Impeccable musicianship. Incredibly moving."
"Succeeds in bringing a tale of unjust accusations and imprisonment up to the moment."
Director's Note
Men exploit their power to take advantage of women. It's a disturbingly timeless theme of the patriarchy, re-lived again and again. Recently, The #MeToo movement has helped illuminate the breadth and depth of sexual violence in our society. In the U.S., one in three women and one in six men experience some form of contact sexual violence in their lifetime.* I admire the survivors who speak up and share their stories to expose the corruption, to heal their wounds, and to change the culture.
In Stradella and Giardini's erotic oratorio, Susanna cannot speak up. The two judges who accuse her of adultery also serve as the sole witnesses in her trial. A male narrator interprets her story (for her), and a male savior, the boy Daniel, intercedes on her behalf.
In our production, women tell the story. A female scholar narrates La Susanna to her class, and her female student assistant witnesses it for the first time. Experiencing the opera through their eyes and ears raises questions that might otherwise go unasked: How does the oratorio itself propagate the patriarchy? Are we (like the judges) objectifying Susanna as we watch her bathe? What does Susanna's future hold?
Today, a woman like Dr. Ford can speak up — in front of Congress, no less — but her words will still be questioned, undermined, and, ultimately, dismissed. In her TED Talk, the founder of #MeToo movement, Tarana Burke, reminds us:
"Someone with credible accusations of sexual violence against him was confirmed to the Supreme Court of the United States of America. Again. The U.S. President, who was caught on tape talking about how he can grab women's body parts wherever he wants, however he wants, can call a survivor a liar at one of his rallies, and the crowds will roar. ...We have to dismantle the building blocks of sexual violence: power and privilege. So much of what we hear about the #MeToo movement is about individual bad actors or depraved isolated behavior, and it fails to recognize that anybody in a position of power comes with privilege. ...We have to re-educate ourselves that...power and privilege don't always have to destroy and take. They can be used to serve and build."
I hope this version of La Susanna can be part of that process of awakening, dismantling, and re-building.
Ethan Heard
*National Sexual Violence Resource Center (www.nsvrc.org)